Regular price
Sale price
$26.99 USD
Unit price
per
Sale
Sold out
FREE 3-5 DAY SHIPPING TO U.S.

CAN YOU SURVIVE THE SABOTAGE?
One and Done is a fast-paced word guessing party game with a dash of mischief and unpredictability. Give one word clues to help your team finish fill-in-the-blank phrases. But beware! The other team can be messy (and petty) by playing any of 16 unique sabotage cards called Set Backs. The first team to Survive the sabotage to win.
✅ EASY TO LEARN - Start playing within minutes
✅ UNPREDICTABLE -  Keep everyone engaged with this fast-paced game of clever clues and challenging sabotages
✅ GREAT FOR GROUPS - Perfect for small and large groups. Great for family game night or team building
WHAT'S IN THE BOX? WHAT'S IN THE BOOOOX??!
350 cards 
1 Sand timer 
2 Dry erase boards 
1 Dry erase marker 
Instructions 
Dimensions: 8" L x 5.4" W x 3" H
Weight: 2.6 lbs
View full details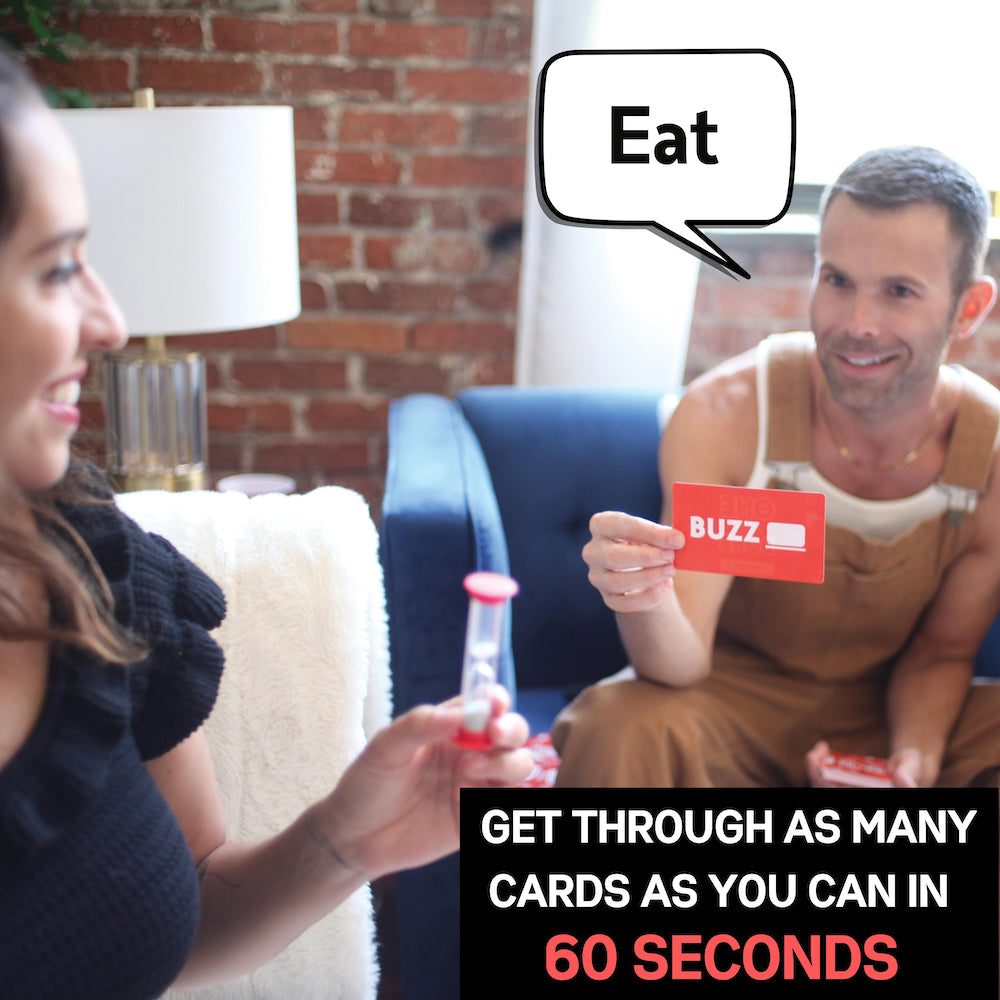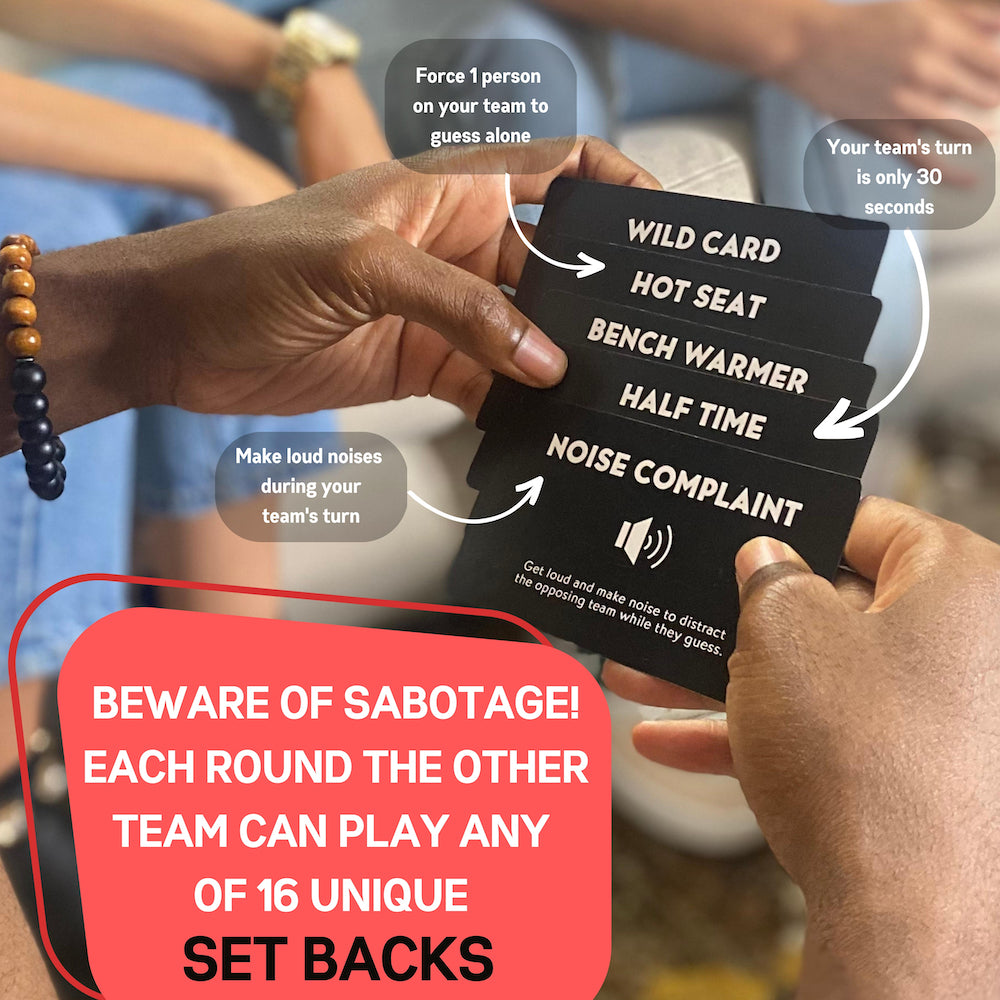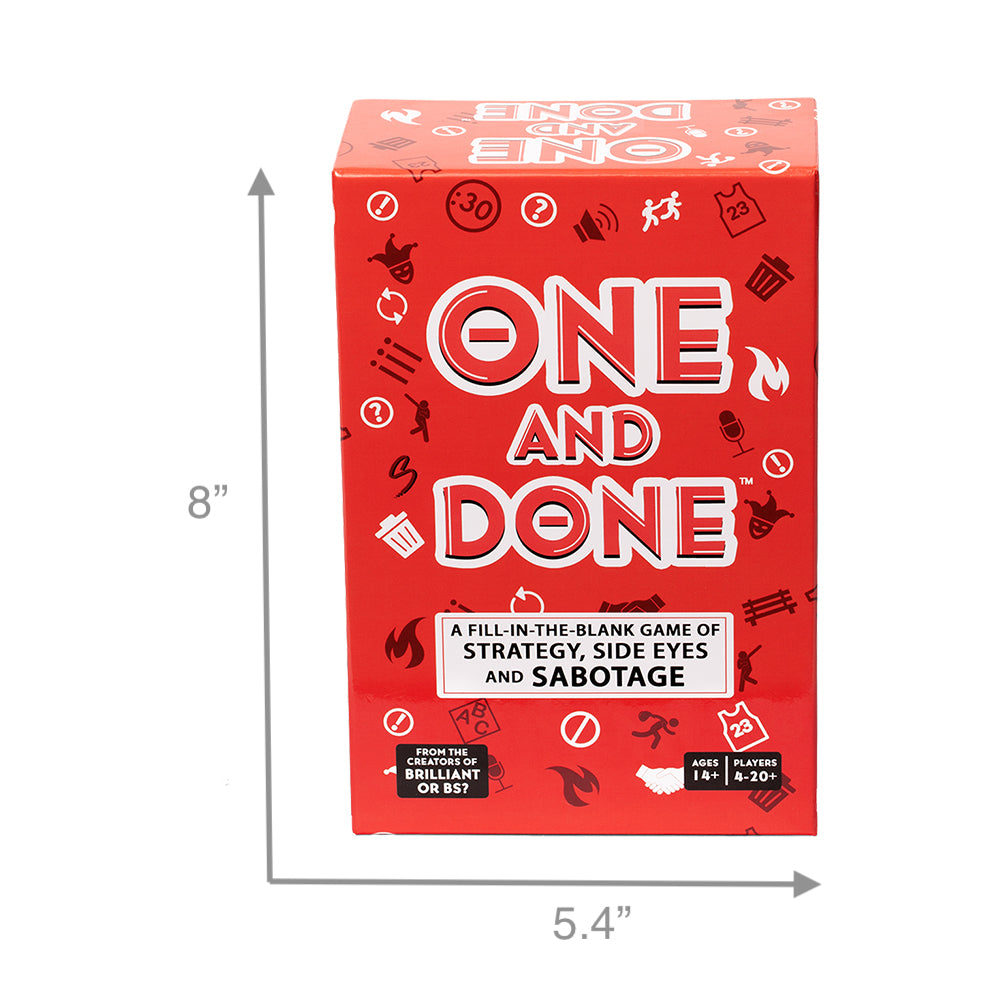 1. Giving Clues
Show your team the fill-in-the-blank phrase on the front of the card. On the back of the card is an underlined secret word that completes the phrase to form a new compound word, expression or proper noun. Say one word to help your team guess the secret word. Your team gets one guess.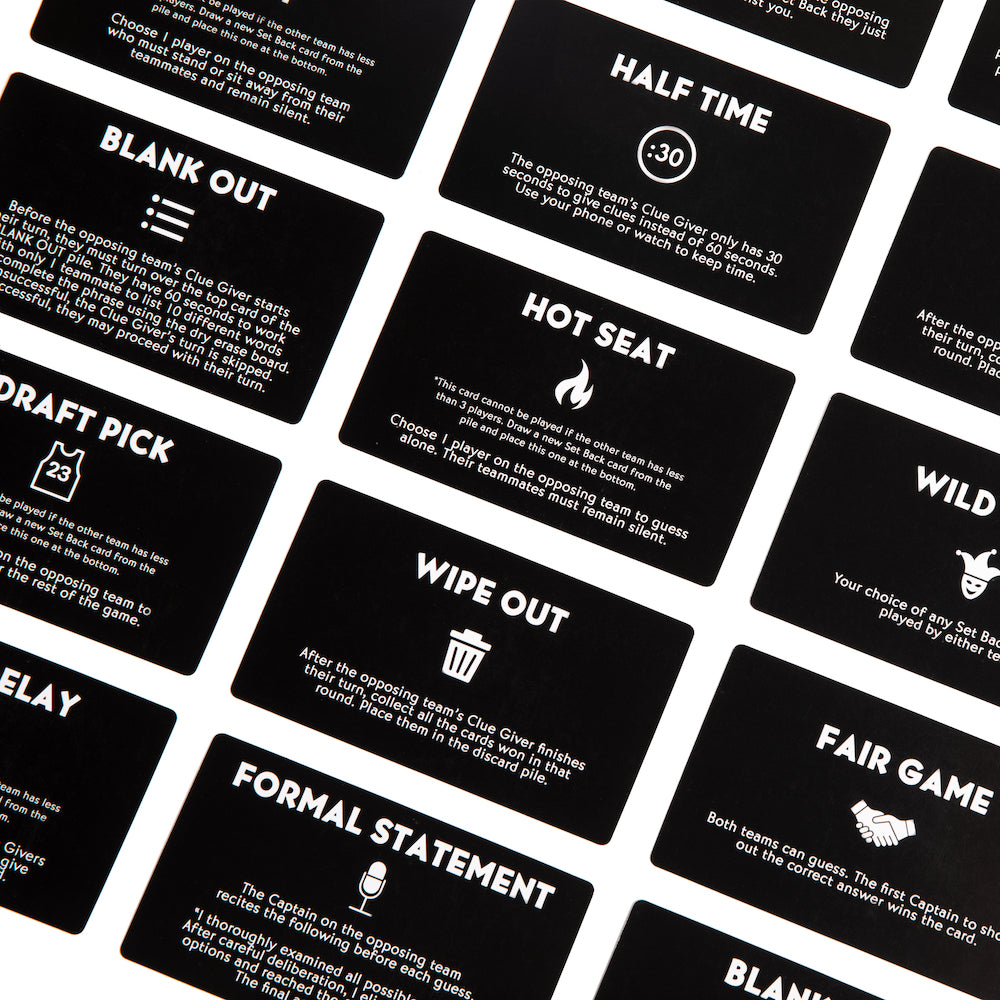 2. Set Backs
But beware! Each round both teams can wreak havoc by playing Set Backs. Things like – make your team's Clue Giver dance non-stop while giving clues, cancel points your team earned, or steal your team's best player for the rest of the game. And many more!
3. Blank Out
Blank Out is a special type of Set Back. Before they can start their turn, the other team's Clue Giver flips over the top card of the Blank Out pile and has 60 seconds to work with 1 teammate to list 10 different words that complete the blank phrase. If unsuccessful, their turn is skipped!
4. Winning the Game
The first team to survive the Set Backs and sabotage to score 21 points wins the game!
FAQs
Is One and Done safe to play with my family?

Yes. One and Done is clean, family-friendly fun. We recommend ages 14+ due to the level of difficulty.
Where can I read the official game rules/instructions for One and Done?

Printed instructions are included with each game. But if you're not a fan of reading rules, watch our quick how to play video HERE.
How many people can play One and Done?

One and Done is played in 2 teams and is great for medium and large groups. You can play with as few as 4 players and as many as 20 players.
Do you ship internationally?

We're currently only shipping to the USA.